Getting a start-up business running is never easy, but several entrepreneurs have found a way to fill a growing niche in China's crowded battery industry by thinking very small. They have set up businesses for industrial carbon nanotube production.
Nanotubes are minute; typically having a diameter of only a few nanometres (1nm = 0.000001mm), yet they are exceptionally strong and have astounding thermally and electrically conductive properties. This makes them an ideal raw material for use in energy storage and has created a way for businesses to enter the battery production market.
With global demand for smaller and more powerful electrical devices growing, the need to produce a battery with a 300 Wh/kg energy density has its rewards. As a number of start-ups are finding, nanotubes may hold the key to meeting this demand.
This is because, adding a small amount of single walled carbon nanotubes to a silicon anode in a lithium-ion battery has been proven to improve battery performance. Specifically, some tests have shown that batteries with silicon/carbon anodes with nanotubes can sustain 1,000 cycles and still retain 80% capacity. An extended life cycle which allows batteries to meet the demands of China's growing electric vehicle industry.
Dr Jian Lin, Vice President of R&D at BAK Power Battery (one of the largest Li-ion battery companies in the world), is also quick to point out how effective carbon nanotubes are as a battery raw material. Stating that, "Due to their high aspect ratio and G/D ratio, dispersed SWCNTs are very effective in batteries." Observing that, "The addition of SWCNTs in anodes hugely reduces capacity loss with ageing and improves cycle life."
Supplying carbon nanotubes to local battery manufacturers is proving successful for a handful of start-ups in Eastern China, a number of whom recently passed quality audits to begin production of the trademark TUBALL BATT nanotube additives. Two of these companies, Shanghai Haiyi Scientific Trading and Shenyang East Chemical Science-Tech, have already begun production and plan to produce a combined total of 7,000 tonnes in the first year alone.
The decision to begin production in China was taken following years of successful sales for imported carbon nanotubes. As Mr. Zhijun Liu, General Manager of Haiyi, explains, "We introduced single wall carbon nanotube products in 2015. With the guidance and support of the OCSiAl [the trademark owner] technical team over the past 3 years, we have now successfully launched the production of TUBALL SWCNT dispersions in China. Local production allows Chinese battery manufacturers to greatly reduce the costs by using TUBALL BATT conductive additive."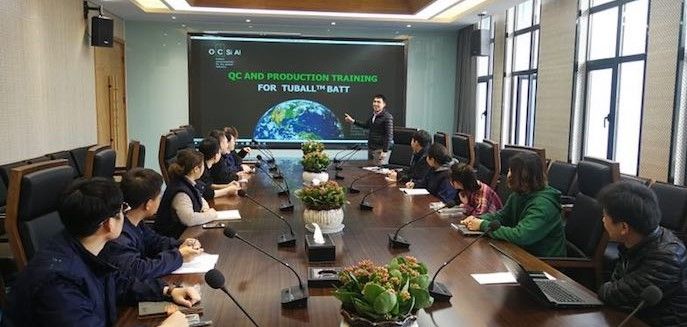 Now the company is looking towards increased sales and a much brighter future, as Mr Liu states, "We have obtained certification from local battery manufacturers, and have now started to sell large batches. Haiyi will continue to expand its production capacity of SWCNT dispersions. Our estimated production volume of SWCNT dispersions in the future will be over 12,000 tonnes."
This optimism is echoed by Mr Yang Liu, General Manager of East Chem, who stated in a recent interview that, "With the production capacity of our local factory, the competitiveness of single wall carbon nanotube conductive dispersions in terms of supply, quality, and cost control will be greatly enhanced. East Chem will continue to deepen our cooperation with OCSiAl, to increase our R&D investment, and to provide our customers with even more diversified products."
But beyond a high-quality product, perhaps the key to success for these start-ups is having production located close to where their customers are. Something that fits in well with the trademark owner's strategy. As Aleksei Minakov, General Manager of OCSiAl China, notes, "This local manufacturing is a big step forward in OCSiAl's long-term development of a sustainable and reliable supply of SWCNTs to the Chinese market. As this partnership demonstrates, we are continuing to expand our business in China with an optimal combination of good service, high volumes and stable quality for the most advanced conductive materials to our Li-ion battery customers in China."
While many are fearing a global economic slowdown, the success of these businesses in producing carbon nanotubes is perhaps showing that start-up companies can still turn a profit even in these challenging times.
It seems that the key to big business is simply to think very small.
---